How do workplace leaders and facility managers help strike a balance between the hybrid work model and the employee experience? How do remote employees who work from home feel connected to other team members who are working in an office on a set number of days per week?  
Answers to these questions reflect an identifiable tension between flexibility and certainty. While not a binary conflict, employees now desire to work more fluidly than ever before, yet organizations have a real need for predictable business outcomes.  
This tension can cause a variety of mixed reactions and behaviors from employees, managers, and leaders. It's certainly playing out in the data we've captured from our customers in our most recent quarterly Workplace Index report and from the hundreds of conversations with facility managers and operations leaders we've spoken with regularly on our podcasts.  
In the last year, there has been expansion of desk bookings across the globe but at very different paces and velocity depending on the region, according to our latest Workplace Index report: 
Asia Pacific (176%)

 

Europe, Middle East and Africa (839%)

 

Americas (281%)

 
Most office environments are adapting to balance workplace flexibility, but it is not an easy feat. Many organizations realize they need to support their employees' ability to work from nearly any work location – to help balance their personal lives while working to increase productivity, retain employees, and keep everyone engaged. 
Get the entire 2023 Workplace Index: Q1 report now. 
How can you balance flexibility in the workplace today? Hybrid work vs. traditional work
Much of the C-Suite is aware today's workforce wants more autonomy than they've had in the past. Many employees expect to choose when they go into the office. From wanting to spend less time and money commuting or needing to help with family caregiving, today's employees expect more work and life balance.  
"When employees perceive that they are free to perform their work in their own way within an autonomy-supportive context, they may be more likely to find that work engaging, [to] possess more favorable evaluations of the job, and [to] proactively engage with their environment and others with whom they work," finds researchers from the scientific publication Emotion and Motivation, per the CFO article "Autonomy in the Workplace: Boost Employee Productivity and Happiness."  
The challenge? With flexibility comes variance — and it has a cost. When daily schedules vary from team member to team member, space planning in shared workspaces can be especially tricky. It can create maintenance and operations friction for teams who need to plan around fluctuating workspace needs and building resource demand.  
Today, most organizations have directional policies on the company's desired in-office attendance. Hybrid vs. traditional work models show: 
Split week: 35%

 

At will: 24%

 

Office first: 12%

 

Designated teams for hybrid: 12%

 

Remote-first: 8%

 

Week by week: 4%

 
Take note: Totally remote work is not as prevalent as you might imagine. Organizations and employees are finding value in being together. The days of commuting in five days a week for traditional work has dramatically shifted.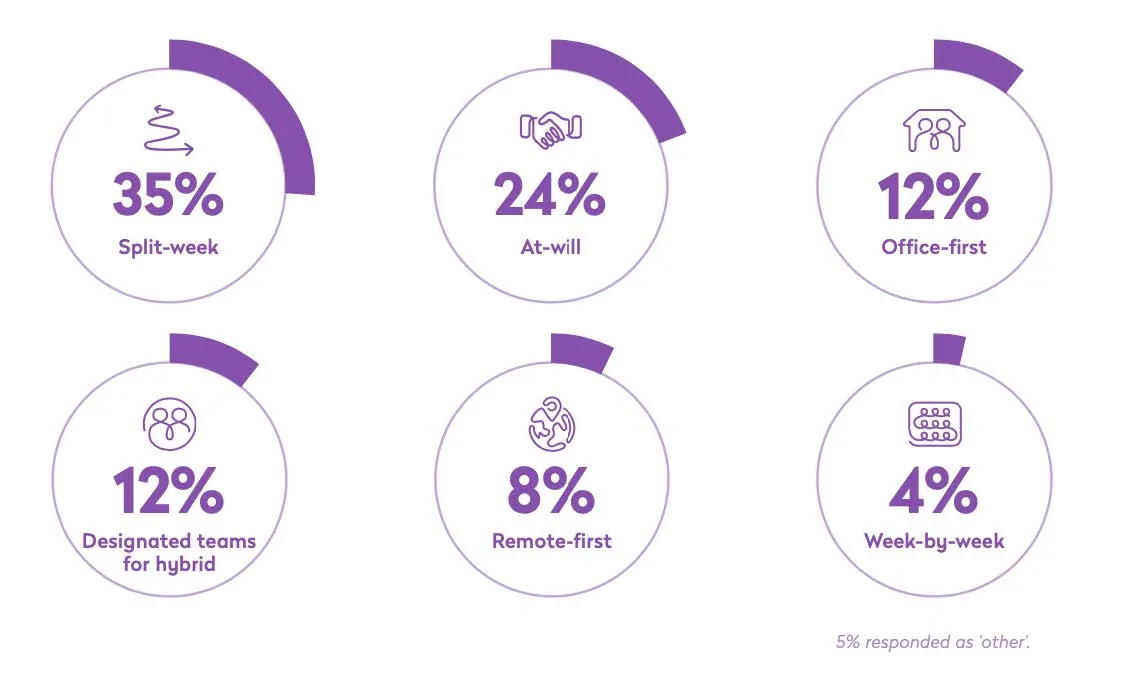 A new maintenance and operation model arises: Midweek office occupancy
When we separate return visits from unique visitors, we have seen a 35% increase in visitor check-ins year over year. Peaking in November 2022, visits have now exceeded pre-pandemic visitor traffic levels with a gain of 60% from January 2022. Our most recent quarterly data continues to show a trend of unique visitors increasing over time overall.  
But on what days? To understand this more precisely, look at meeting room bookings. Over the past three quarters, most companies are experiencing a rise in what we call the midweek mountain since Monday and Friday are the least reserved days of the week. The data is loud and clear: Room bookings are highest on Tuesday, Wednesday, and Thursday — with similar patterns in desk bookings.  
What does this mean for the future workplace? For facility managers, maintenance needs to be planned around lower demand times. You need to choreograph maintenance work orders by watching attendance data closely and pay close attention to meeting room and desk bookings. It will all become a delicate balancing act as workplace leaders seek to create the optimal use of resources.  
Real estate teams face similar challenges with variable occupancy rates. There is no doubt that visitors to the office are on the rise, and there is increasing evidence to suggest these visitors are capitalizing on critical in-person connections by arranging multiple meetings. But with today's flexible work patterns, it's still difficult to get future visibility on likely office attendance.  
Workplace flexibility does not mean complete office exemption. The office is for human connection.
Think about this fact: Our customers have experienced 495% growth in collaborative room bookings since the beginning of 2022. Employees crave human social connection, unity, and a sense of being part of a whole. Employees are conscious of the need for collaboration to get things done and to support company culture and support other team members in person.  
Having a positive company culture is an important driver of employee retention and in attracting new potential employees. Employees often state that in-person proximity to management helps with career advancement and finding mentorship too. Employees desire to be together, just not every day.  
How to balance workplace flexibility and business certainty
To find balance, you need open communication and clear hybrid work policies with all team members using reliable technologies. This includes having solid video conferencing, strong presence awareness capabilities that make it easy to view and share in-office work schedules, and feature-rich collaboration software. 
But you also need accurate, reliable attendance and occupancy data that works in as close to real time as possible. How do you achieve all of this needed balance?  
Reinforce planning transparency and encourage weekly participation.
Make it about everyone on the team – not rules for the sake of rules. Managers can lead by example by sharing their calendar. In our case, we have plug-ins for collaboration software such as Microsoft Teams that make it super easy to share schedules and desk and room bookings, so everything is transparent.  
Make onsite the new offsite experience
Maybe it sounds counterintuitive, but in-office attendance is not guaranteed anymore. The social aspect of the office is crucial now – as is the area of the office and the rooms you use. The in-office experience matters, so treat it as an event. Organize special lunches or happy hours or combine meetings with other departments and encourage collaboration with other teams.  
Encourage in-person training and development – and mentorship
This is especially important for younger workers that want career growth opportunities. If employees feel their growth is limited, they are more likely to seek different employment. The office should be seen as the meeting place for career expansion. 
See all the data. Download the full 2023 Workplace Index: Q1 report today.